As industry leaders in mattress ticking, we invest time into researching trends in fashion and interior design. We are influential in our fashion-forward business as we continue to differentiate by focusing on new product introductions and innovation. Along with the other common misconceptions about mattress ticking, we realize that solid white fibers, although fitting in some instances, are no longer the industry standard as the trends continue to change.
Influencing Trends

Typically, color trends come to mattresses a few years after they are introduced into fashion and interior design. We actively study current trends and get ahead of our industry by developing color palettes and patterns for customers to suggest up-and-coming designs that will complement the other colors in modern homes.
When our designers develop the trend forecast, they focus on overall trends in interior design and fashion, because consumers want to see consistency across the spectrum. This year, our focus for trend fabric revolves around five trend categories: Scandinavian, Mid-Century, Minimalism, Wabi-Sabi, and Bright White. As we continue to research these trends, we find inspiration in the colors and textures, which directly influence our newest designs
Inspiration and Application

Color is everywhere, and it brings nuance that can tell a unique story and express a range of emotion. Our newest focus is on multi-faceted heathered knits that reflect the current trends in fashion apparel and interior design. Often, customers want their bed to look like a piece of furniture that is easily integrated into the home environment. Our vertical integration and in-house design team offer customers a unique "one-stop shop" where they can custom design bedding and upholstery products from thread to cover.
We have seen an increase in our production of heather yarns for mattress fabrics, which include Ash, Steel, or Stone for a neutral grey palette, as well as Oatmeal, a warmer beige heather that blends well with other neutral yarns. We are also exploring heather yarns in the blue family including Denim and Chambray. When it comes to selecting ticking designs, our customers are not confined to one color. Our innovative designers find that blending shades of gray or neutrals inspired by nature create a stunning look in the final product.
Our most recent textile innovation in color was the introduction of rose gold to showcase how trending fashion colors could be used in mattress ticking. Our designers noticed the trend, developed a trend board for inspiration, and combined yarns to develop the new colors to create a soft pink tone.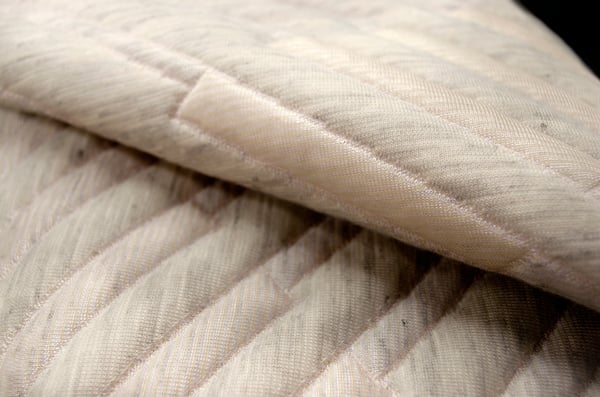 The fashion aspect of a mattress plays a large role in consumers' purchasing decisions, because design is the first thing a customer notices on the sales floor, especially now that celebrity designers and influencers are entering the world of textile innovations. Our commitment to quality and excellence flows into every portion of our business as we continue to influence and innovate in trends and technology.